Watchman on the Wall
About
Watchman on the Wall
Founded in April 1933 by the late Dr. E. F. Webber, Southwest Radio Church broadcasts have been heard continuously since that time, making it one of the oldest daily religious programs on the air. The ministries of this non-denominational, evangelical organization continue to grow in an effort to share the Word of God in a globe-circling strategy outlined by its founder. Southwest Radio Ministries is instructional, evangelistic, missionary, and prophetic in purpose.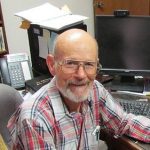 Dr. Larry Spargimino is host of the Watchman on the Wall broadcast and joined the ministry in 1998. Larry researches and writes books and articles for the ministry, writes segments for our video broadcast, assists on tours, and helps answer listeners' theological questions when they call the ministry. Larry holds a doctorate from Southwestern Theological Seminary in Ft. Worth, Texas, and pastors a local church. Larry also serves as vice-president of SWRC.
Josh Davis accepted Jesus Christ as Savior at a young age and grew up in a preacher's home. While preparing for a career in pharmacy, God redirected Josh's heart, mind, and future to prepare for ministry. He earned a Master of Divinity from Southern Evangelical Seminary near Charlotte, NC. He has served his home church in pastoral ministry since 2007. God has blessed Josh with a lovely wife and two wonderful kids.
The president of the ministry is Dr. Kenneth C. Hill. Kenneth served as vice-president for many years. Upon the retirement of Bob Glaze, Kenneth assumed leadership. Kenneth has pastored churches in Indiana and Tennessee. Since 1981, Dr. Hill has been in charge of a ministry that presently has a growing video outreach and operates five radio stations in Northeast Tennessee.  Since 1993, during his time of service on the SWRC Board, he has produced hundreds of audio and video programs; written articles and books on Christian themes; and spoke often in conferences, evangelistic outreaches, and special meetings.