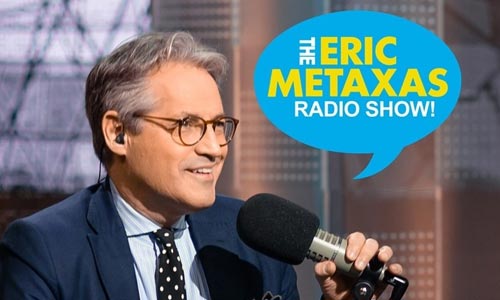 Eric Metaxas
About
Eric Metaxas
In a decidedly eclectic career, Eric Metaxas has written for VeggieTales, Chuck Colson, and the New York Times, three things not ordinarily found in the same sentence. He is a best-selling author whose biographies, children's books, and works of popular apologetics have been translated into German, Albanian, Portuguese, Spanish, Korean, Turkish, Galician, French, Simple Chinese, Complex Chinese, Dutch, Danish, Italian, Polish, Hungarian, Russian, Ukrainian, Finnish, Norwegian, Swedish, Macedonian, Slovak, and Greek. The Hartford Courant has declared figuring him out "like trying to stick a pushpin in a cyclone."
Eric Metaxas was born in New York City in 1963, on his father's 36th birthday. He grew up in Danbury, Connecticut, attending the public schools there, and graduated from Yale University. At Yale he made a literary splash as editor of the Yale Record, the nation's oldest college humor magazine, and a subsequent literal splash when, following the 99th Yale-Harvard Game, he commandeered a successful effort to throw Harvard's goalpost into the Charles. At graduation, Eric was awarded two senior prizes for his undergraduate fiction. He was also "Class Day Speaker", co-writing and -delivering "The Class History", a satirical address that is a Yale commencement tradition, in the process upstaging Dick Cavett, the next speaker. They would not speak for nearly two decades.
about2Metaxas' humor writing was first published in the Atlantic Monthly, and has appeared in The New York Times. Woody Allen has called these pieces "quite funny." Eric's book and movie reviews, essays, and poetry have appeared in The New York Times, The Washington Post, Christianity Today, National Review, and First Things. He has been awarded fellowships to Yaddo and the MacDowell Colony for his short stories. His cult-classic Don't You Believe It! — a book-length parody of the Ripley's "Believe It Or Not!" books — led novelist Mark Helprin to dub Metaxas "the true heir to the Far Side's Gary Larson."
From 1988-1992, Metaxas was editorial director and head writer for Rabbit Ears Productions, writing over 20 children's videos and books narrated by such actors as Mel Gibson, Robin Williams, Sir John Gielgud, Danny Glover, Sigourney Weaver, John Candy, Michael Caine, Michael Keaton, Jodie Foster, Emma Thompson, and Raul Julia. His Rabbit Ears videos have won numerous Parent's Choice Awards and three Grammy nominations for Best Children's Recording; they all aired on Showtime and as popular audio programs on NPR's Rabbit Ears Radio, hosted by Mel Gibson and Meg Ryan, whose radio scripts Eric has also written. Parenting magazine and others have called Metaxas "the unsung hero" of Rabbit Ears and a "children's author nonpareil."
Mr. Metaxas' The Birthday ABC was chosen as a 1995 "Pick of the List" by the American Bookseller's Association. Reviewers said the book's light verse "sparkled" and "sizzled," comparing it with Odgen Nash, Edward Lear, and Lewis Carroll. Eric's many other children's books include the Angel Award-winning Prince of Egypt A to Z, a tie-in to the Dreamworks film; and the acclaimed Uncle Mugsy & the Terrible Twins of Christmas. Squanto and the Miracle of Thanksgiving was awarded an Amazon.com "Number One Bestseller" Award in 1999.
Eric's children's book, It's Time to Sleep, My Love, illustrated by Nancy Tillman was hailed as a "Goodnight Moon for the 21st century." Sally Taylor, the daughter of James Taylor and Carly Simon, wrote a lullaby song to Eric's words and sings it on the book's audio cd. The book has sold more than 800,000 copies.
From 1997-1999, Metaxas was a writer and editor for Chuck Colson's BreakPoint. He then worked as a writer for VeggieTales, where he co-wrote Lyle the Kindly Viking, and provided the voice of the narrator on Esther. In 3-2-1 Penguins! he provided the voice for "President Wait-Your-Turn" and "Vacuum #10?. Eric's children's books for VeggieTales include the #1 bestseller God Made You Special! (over 800,000 copies in print), as well as Even Fish Slappers Deserve a Second-Chance and The Pirates Who (Usually) Don't Do Anything, both also bestsellers. He is the author of the unproduced Gourd of the Baskervilles and an unproduced VeggieBook, The Boy Who Cried Waffle.
Metaxas has been featured as a cultural commentator on CNN, MSNBC, and the Fox News Channel; and has discussed his own books on The History Channel, C-Span's Book TV, Glenn Beck, and Huckabee. He has been featured on many radio programs, including NPR's Morning Edition, and Talk of the Nation, as well as Hugh Hewitt, Dennis Prager, Bill Bennett, and The Alan Colmes Show.
He is the founder and host of Socrates in the City: Conversations on the Examined Life, a monthly event of "entertaining and thought-provoking discussions on 'life, God, and other small topics'" featuring such guests as Malcolm Gladwell, Cal Thomas, and Bob Beckel, Dr. Francis Collins, Sir John Polkinghorne, Baroness Caroline Cox, N.T. Wright, Os Guinness, Peter Kreeft, and Dick Cavett.